Ravello Italy – The Hilltop Town & Breathtaking Views
To feel like you have been whisked off to the Italian sea, please click on this YouTube link  and enjoy the sounds and carismatic voice of Dean as you you read this post! 🙂 I am so excited to talk to you about my Italy adventures! If you follow me on Instagram, you would have saw all my beautiful photos of my beautiful country of Italy! As I mentioned, in my About Me page, I lived in Italy for a few months in 2010 and then later in 2013 married my Italian husband. Therefore, I am a self-proclaimed Italiana from Abruzzo!  For our 3rd year anniversary, we went back "home" at the end of May until mid June! The cities we visited were Milan, the region of Calabria, Amalfi Coast and Rome. This post I will describing our day trip to Ravello Italy!
We were suppose to visit Florence, but due to the flight delays and lost baggage, we just stayed in Milan with our friends. For this 4part series, I will be focusing on how you can experience the beautiful Amalfi Coast and it still be affordable. My husband and I definitely are not rich, but we were able to spend a decent amount of time in the Amalfi Coast without breaking the bank. The areas in particular are Ravello, Amalfi, Positano & then the famous celebrity Island of Capri! My husband's family is from Isola di Capo Rizzuto in Calabria which is the region of Italy next to Sicily! His family offered to drive us to Amalfi Coast and spend a day there. The drive was about 5 hours, but we took the scenic route – driving along the coast  next to the Tyrrhenian sea! Think of California's Pacific Coast highway, but in Italy! Breathtaking!! Our hotel we chose was located in the heart of the city of Amalfi. But before we went there, we made a stop in the city of Ravello!! Ravello Italy is a beautiful city on a hilltop on the Amalfi Coast – so in other words not a coastal city.  Some may not have heard of it but it is definitely a must see!! I discovered this city last year when we planned our first trip to Amalfi and stumbled across this beautiful photo of the Belmond Hotel Caruso Hotel in Ravello and was speechless.
RAVELLO ITALY – GETTING HERE
The best way to get to Ravello Italy is by car or taxi for the convenience especially during peak season, but there are the city buses too. If you take any local buses in the Amalfi Coast, remember this: You cannot buy your bus fare on board the bus! You must purchase them on at a Bar aka at the Tabacchi. We felt so bad for tourists that did not know this who waited a long time for a bus (sometimes the last bus) to get turned away because they did not already bought their tickets. To get to Ravello, you have to go up a very narrow road that has a lot of twists and turns to get to the top. These roads are so narrow that you think it may be a one way street. There is a certain part that is one way and traffic is controlled by a traffic light as it lets one side of traffic flow through. So perhaps city bus or taxi maybe best for first timers.
 It is about a 15-20 minute car ride up to get to the top area. There was a restaurant that I discover that was very reasonably priced compared to other restaurants in Ravello Italy and had an AMAZING view to enjoy as well seen in my opening image. We had made arrangements to eat lunch there. Ravello Italy is very expensive and is the city with the 2 most expensive hotel where many of the rich and famous stay at, Belmond Hotel Caruso & Palazzo Avino. With both of these hotels, you are looking at several thousands of dollars a night. So if you have the money, then yes stay here for a night or two, but most people stay in other cities. The name of the restaurant we ate at was Bella Vista Sul Mare inside Hotel Bonadies (Beautiful view on the Sea)! It is ranked in the top 10 restaurants on TripAdvisor.
RAVELLO ITALY – WHERE TO EAT
This restaurant is located in the Hotel Bonadies. They have indoor seating which was nice as well, but obviously we came here for the view. We were able to be quickly seated on the outdoor terrace and I was in LOVE! With all my photos of the Amalfi Coast, I try to capture what my eyes were seeing, but to be honest, I could never succeed in this area. It is really something that you have to see for yourself to really understand the beauty.
So our lunch began with a nice bottle of water and Italian bread as my father in law chose the wine! Since we were eating seafood plates, he chose a nice slightly dry white wine! For the "Antipasti" or starter, we went with the "Misto di Mare Fantasia dello Chef". This was basically a fresh seafood salad served cold. This dish was not bad, but I had this dish in my husband's coastal town that was a little bit better.
For the main plate, my husband and I ordered the same dish – our favorite dish "Spaghetti alle Vongole veraci"! We love clam pastas with cherry tomatoes, tossed in a garlic white wine olive oil sauce! It was GOOD! The portion size was nice and quality was great. The wine that we chose was perfect for our dish too. The price of this plate was 15 euros. There are other places in the Amalfi Coast that would be closer to 20 euros. In other parts of Italy, you can get this for even 10 euros. But in either case, the price and quality of food in Italy is much cheaper than what you would get here in the United States.
The view and weather was absolutely perfect as we enjoyed our meal! The sights all around us was incredible. On their terrace which does not hold many tables, has perfect views all around. I highly recommend making reservations before coming. Also try making reservations on TripAdvisor's website. For our trip, when we were on there 3 months in advance, they had a special of 20% off the tab if you made a reservation on TripAdvisor!
To end the lunch, I did order their gelato! The gelato was good, but I would definitely go to a local gelateria for something better for a better price. This gelato was about 4 or 5 euros and the quality was ok. I definitely think that this restaurant is definitely worth another visit time and time again. I would definitely recommend coming here for a sunset dinner! I'm sure it would be an unforgettable experience.
RAVELLO ITALY – THE SCENARY
Afterwards, we began to explore Ravello Italy for a little bit. There was a road that the locals told us to take to see some beautiful views and Gardens. We were there in Ravello for a short time because his parents had to drive 5 hours back to Calabria. So we had to keep things short and definitely did not want to get to our hotel too late. As we walked up this road that is on an incline ,we came to this beautiful open space area and I stopped. I kept looking and looking and told my husband "I know this place… I seen this area on the internet, but I don't know where". I see a sign for the hotel and literally gasped and said excitedly "OMG THIS IS THE PLACE! THIS IS THE PLACE!" Just by chance we found the Belmond Hotel Caruso – that beautiful photo at this beginning of the this post with the sunset dinner! So the doorman is looking at me like "are you ok!?" I went to him and asked could I please just take a peak inside. He was kind of hesitant at first, but said yes but only to the balcony!
When we go there, our mouths just dropped!! Please note my photos that I took is a BAD representation of what we saw there! It was incredibly beautiful and looked so FAKE! We could not believe our eyes! You have to go there to see it for yourself! I am not exaggerating! I was so frustrated taking photos because it just could not capture it's true beauty!
On the balcony, they had a lemon tree filled with big lemons and in the entrance, they had limoncello for the guests. If you noticed the sign outside of the hotel it shows 5 stars and L. My father in law said " Look its 5 stars L"!!! I looked at him confused and was like "what does the L mean". They stated it basically means 6 stars. L is for Luxus! I remember when I looked for rooms last year, the rate was over $7,000 a night! Ummm how much for 30 minutes?! LOL The doorman was so nice to us "regular folks", and he gave us all their brochures and asked us to come back and visit again! I asked the guy do celebrities come and stay here. He simply stated yes there are many VIP guests. So I asked him who. He replied due to the privacy of the guests he is not allow to say who was staying there nor who has previously stayed there.
So we began walking some more down the narrow road and we came across this green door frame! The door itself was clear and you can see straight through. OOOOHHH MY GOOODDDNEESSSS!!! If you thought Hotel Caruso's view was awesome, you MUST MUST MUST SEE Hotel Palazzo Avino!! We did not want to leave at all. Soooo beautiful! We took like a million pictures!
There was no doorman so we just walked right in! The terrace in my opinion was more beautiful than Hotel Caruso, but then again we only saw a little balcony of Hotel Caruso. Palazzo Avino looked super fake….just incredibly unreal! I am still freaking out as I am writing this because I never knew a place could really even exist. Again my photos are a BAD representation of what we actually saw! From the pool to fountains and the garden…just incredible!
As we walked back to our car, we passed Belmond Hotel Caruso again. We noticed a black Mercedes car services driving towards the hotel. There was a couple with sunglasses sitting in the back. Right behind it was a police escort. My mother in law and I looked at each other and said at hte same time, "VIP!" It only made sense for there to have the police follow behind it. So we get to our car and that car service made it back down with the same police car behind it and the car service wanted our parking spot. So we told him, you can have our parking spot if you tell us who was in your car! HAHAHA LOL He smiled and said "It was nobody"! Yeah right! I guess we will never know.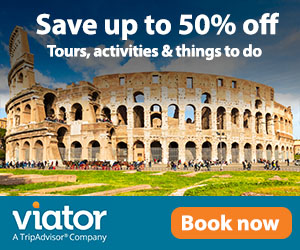 RAVELLO ITALY – THINGS TO DO
Because we spent so much time at these hotels, we really did not have enough time to see all the famous sights in Ravello Italy because we were only there for a few hours. But below are places that you should see. We will return and go back and see all these places too.
Villa Cimbrone Gardens – Simply put… A Paradise! 7 euros
Villa Rufolo – Amazing views & History & Architecture 5 euros
Le Ville di Ravello – Views & Ancient City
Atrani Walk – Scenic walk
 Thank you for reliving this wonderful experience in Ravello Italy! I hope you enjoyed the post and it inspires you to go on to the Amalfi Coast and visit Ravello Italy! Check out my next post on the city of Amalfi !